BACK to NEWS
The Fahey Q&A with Shauna Hamilton, who's working for more voter choice in Massachusetts
Katie Fahey :: The Fulcrum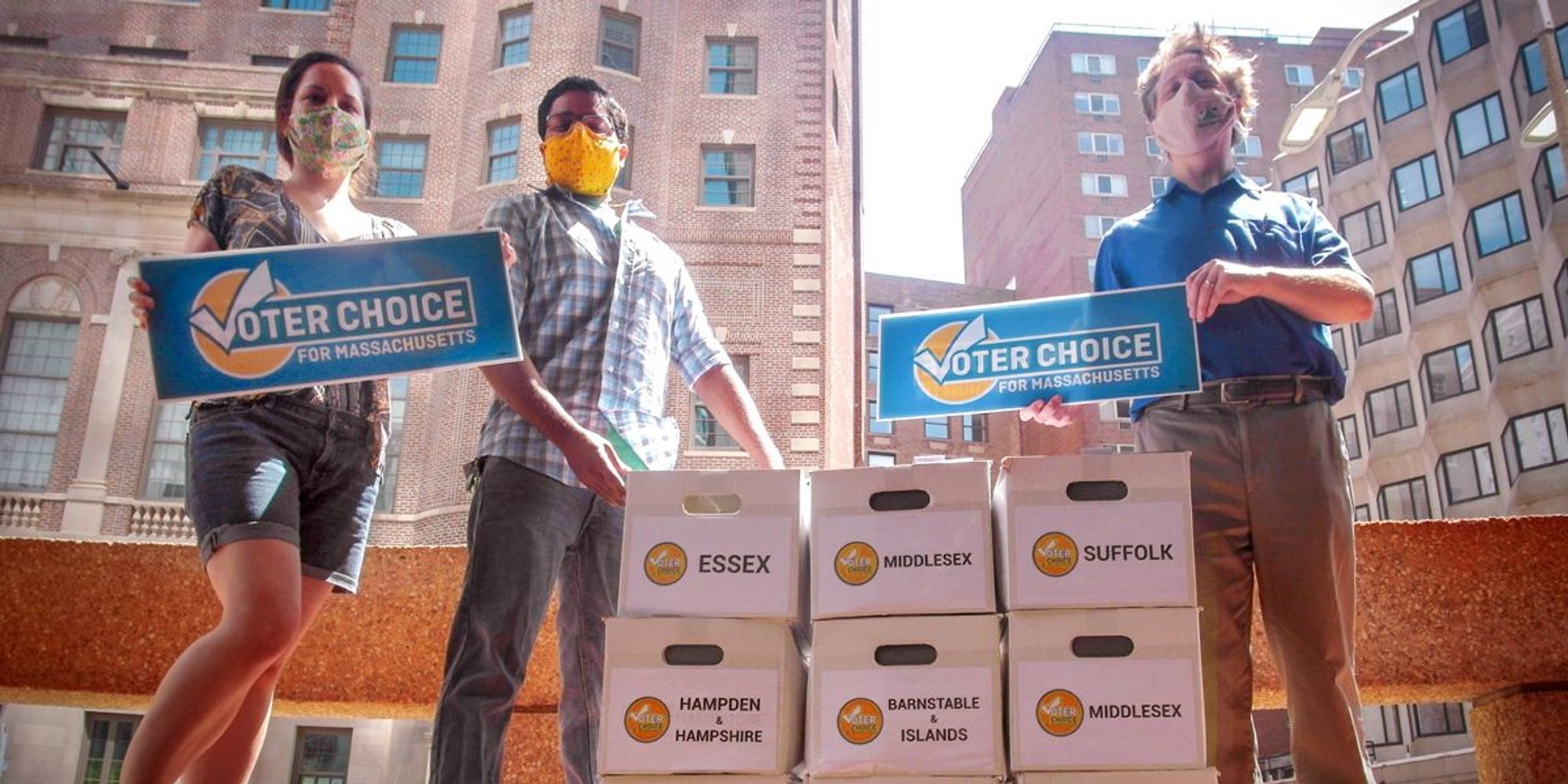 The Fahey Q&A with Shauna Hamilton, who's working for more voter choice in Massachusetts
A few years ago, Shauna Hamilton was working in hospitality management when she met a volunteer canvasser, which led to a change of career path. Now she's the deputy campaign manager for Yes on 2, the group behind a Massachusetts referendum on the November ballot that would switch to ranked-choice elections for most offices in the state. Her campaign was preparing for a second round of signature-gathering on ballot petitions when Covid-19 hit. Forced to abandon in-person canvassing, it won permission from the state's top court to go online — a national first — and ultimately got 129,000 valid signatures, a state record for a ballot measure.
You have the option to rank candidates in order of preference. You can rank as many or as few as you'd like, or still choose to vote for only one candidate. A candidate can win outright by receiving more than 50 percent of first-choice votes. If not, the one with the fewest first-choice votes is eliminated, and those votes are reallocated to each voter's second choice, so no vote is wasted. This process repeats until one candidate has a majority.
The current system has led to a lack of choice for voters, a lack of competition in elections and crippling political division. Ranked elections give voters more power, stripping power away from special interests and big-money donors. They expand voter choice and encourage more candidates to run without the fear of vote-splitting, and would make Massachusetts' government more representative of the state's diversity across ages, races and genders. In a climate with so much division, ranked-choice voting is needed to build consensus across the political spectrum.
I joined as a volunteer in January 2018. A canvasser approached with a clipboard and asked if I wanted to get involved with the ranked-choice voting movement. At the time, I was making a career shift and had been trying to get involved with something nonpartisan that could alleviate the division in our politics. I made the trip to the first meeting because all the volunteers I'd spoken to were so passionate — that's the power of volunteers connecting with folks!
After Maine in 2016 became the first state to pass statewide ranked-choice voting, a group in Massachusetts — including lawyers, professors, data analysts and activists — formed to say, "We're going to be next." Initially the questions were about how to connect with people and build a list of supporters and volunteers. At first it was purely an educational organization, volunteer-led for about a year and a half. As we brought on more volunteers and eventually hired a few staff, we expanded into a legislative effort as well as a push for a statewide vote. We filed two bills in 2019, one for ranked-choice statewide elections and the other to provide a ranked-choice option to municipalities. Through our volunteers' phone banking, we secured 86 co-sponsors for those bills.
We began circulating petitions last fall to get our reform on the ballot. The state Constitution required us to submit two rounds of signatures: a minimum of 80,239 in the first round, then at least 13,374 more. We completed our first round in December — and thought the second round would be a piece of cake. We didn't know we'd soon be operating in a very different world. Covid-19 meant that we couldn't stand outside a grocery store or on a street corner. Fortunately, the Supreme Judicial Court allowed us to gather signatures electronically. Then, our volunteers and organizational partners blew it out of the water.
We're not knocking on doors due to Covid-19, so connecting with voters through phone banking is more important than ever. People are voting earlier this year, in person and by mail, so we need to get ahead and inform them about our campaign. Social media, television ads and radio also broaden our reach significantly. Our first TV ad went out two weeks ago.
BACK to NEWS